Remembering all of your passwords may not seem difficult...until you think about just how many passwords you have. One for each email account. One for each bank account. One for each shopping site. The list goes on, and on. If you want to make your life simple, you can choose the same password for every account. But if you want to keep things secure while making life simple, you need a password manager like LastPass. This free software comes in a
32-bit
and a
64-bit
version.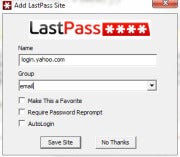 When you enter a login,
LastPass asks you if you'd like to save it,
and lets you categorize it.
LastPass is one of those handy utilities that doesn't bother you; in fact, you may barely notice it at all until you need it. Once you install LastPass, you must create an account, which requires selecting a master password for accessing LastPass. And then you're up and running. LastPass is visible only as a gray icon in your browser bar, which changes to an easily-visible red if you're logged in to the app. (You can opt to stay logged in when you close your browser if you're using a secure PC.)
As you browse the Web, LastPass springs into action when you enter a username and password into any kind of Web form. A drop-down menu bar asks if you'd like LastPass to save the login info, which you can assign to a group. When you return to that site, LastPass automatically enters the login info for you. LastPass is a cloud-based password manager, as it syncs your encrypted data with its servers, but also saves an encrypted backup copy on your local machine.
LastPass offers a vault where you can organize and view information about your logins. You can see when you last accessed sites and can view your login info and assess its strength. If you want to change your Web passwords, but don't want to generate your own, LastPass will generate strong passwords for you--and using LastPass means you don't have to worry about remembering a randomly generated password on your own.
LastPass keeps its focus solely on passwords, even though it does offer additional features, much like rival Roboform. Both offer the ability to fill in online forms with just a click, and a feature that lets you store information in password-protected notes. But LastPass's does so without hassling the user quite as much, which makes it easier to use, and handier in the end.